Overview of Quality Brewing Equipment
Brewing beer requires a complex set of equipment to properly conduct each step of the brewing process. From milling to mashing, boiling to fermenting, having high quality brewing equipment is essential for crafting consistent, delicious beer.
This guide will explore the key equipment needed at each stage, outlining the critical features, sizes, capacities, construction materials, and options on the market. We'll compare the pros and cons of basic versus professional-grade setups. You'll learn how to select equipment for your goals, space, batch sizes, and budget.
With the right quality brewing system, you can achieve more precise temperature control, faster brew times, higher batch yields, and automation. Investing in quality also brings durability, reliability, efficiency, cleanability, and repeatability.
Below are the essential pieces of brewing equipment and considerations for each:
Brewing Equipment Guide
| Equipment | Key Characteristics |
| --- | --- |
| Malt Mill | Adjustable rollers gap, flow rate, mounting |
| Mash Tun | Material, direct/indirect heat, insulation, batch size |
| Lauter Tun | Diffuser false bottom, sparge arms, level sensors |
| Brew Kettle | Direct fire/electric, automation controls, batch size |
| Wort Chiller | Copper immersion, plate chiller, glycol chilled |
| Fermenter | Material, conical/cylindrical, temperature control |
| Brite Tank | Direct/indirect coolant, pressure capable, isolation |
Brewing Equipment Types and Options
When outfitting your brewery, you'll need to select equipment configurations, sizes, and features based on your production goals. Here are the typical setups at various scales:
Homebrew and Nanobrewery Equipment
For producing beer in small batches at home or in a nano brewery, you can start with basic equipment adapted from homebrewing:
2-5 gallon brew kettle or converted keg
Propane burner or electric heating element
Igloo cooler mash tun with false bottom
Wort chiller like an immersion chiller or counterflow chiller
Glass carboy or Cornelius keg fermenter
Mini fridge converted to fermentation chamber
Bench capper, taps, and other small scale gear
While affordable, this setup limits batch size, consistency, efficiency, and quality control. Temperature control and automation are challenging. An experienced homebrewer can produce good beer with skill and care.
Microbrewery and Pub Brewery Equipment
To scale up production for a microbrewery or brewpub producing beer for consumption on premise, more advanced equipment is recommended:
10-30 barrel brewhouse with mash tun, lauter tun, and brew kettle
Direct fire brewing system with automation and sensors
Plate heat exchanger for wort chilling
7-60 barrel fermenters and brite tanks
Glycol or compressed air cooling systems
Semi-automatic keg washer and filler
With proper training and experience, this professional brewing equipment allows for brewery operations, quality control, and yields not feasible at smaller volumes. Investing in quality brewing equipment pays dividends in increased productivity and profitability.
Regional and National Craft Brewery Equipment
For production volumes beyond microbrew scale, expanding into regional or national distribution, breweries invest in high capacity systems:
50-500 barrel brewhouse vessels and kettles
Advanced direct fire brewing systems with precision automation
Sophisticated sensors, data logging, alarms, troubleshooting
Centrifuge, filters, and other downstream processing
Up to 500 barrel fermenters and brite tanks
Central glycol or ammonia cooling systems
Automated cleaning and sanitation chemical dosing
High speed canning and bottling lines
Laboratory with QA/QC testing capabilities
This commercial brewhouse setup provides the highest degree of consistency, efficiency, quality control, and flexibility to brew beers perfectly and at scale. The capabilities match the demands of much larger production and distribution.
Applications and Uses of Quality Brewing Equipment
Investing in quality brewing equipment unlocks capabilities not feasible with budget equipment. Here are some of the key applications enabled:
Precise Temperature Control
Direct fire kettles with automated PID control for accurate mash, lauter, and boil temperatures
Jacketed fermenters and brite tanks with glycol/compressed air cooling for fermentation temp control
Real-time monitoring and logging to detect any deviations
Higher Efficiency and Yields
Advanced lauter tuns with active sparging can hit 80-90% efficiency
Conical fermenters allow harvest of yeast for re-pitching instead of wasting
More consistent transfer and minimized losses with CIP and automation
Faster Brewing Times
Multi-vessel brewhouses speed up each stage vs single vessel
High heat input on kettles boils wort faster
Plate heat exchangers chill many times faster than immersion or counterflow
Brewing Flexibility and Variety
Unique ingredients like fruit, spices supported via automation
Customizable recipes with greater control over each parameter
Can easily adjust batches and schedules with recipes stored
Quality Control and Repeatability
Auto logging of data and conditions for traceability
Ability to exactly replicate recipes and parameters
More sensors to detect issues and maintain ideal conditions
Ease of Cleaning and Maintenance
Smooth welds and rounded surfaces reduce cleaning time
CIP integration for automated cleaning cycles
Easy to access parts, fittings, valves for preventative maintenance
Staff Safety
Automated systems reduce heavy lifting and strenuous activity
Low pressure boil kettles prevent burns and eruptions
Warning lights indicate CIP system activation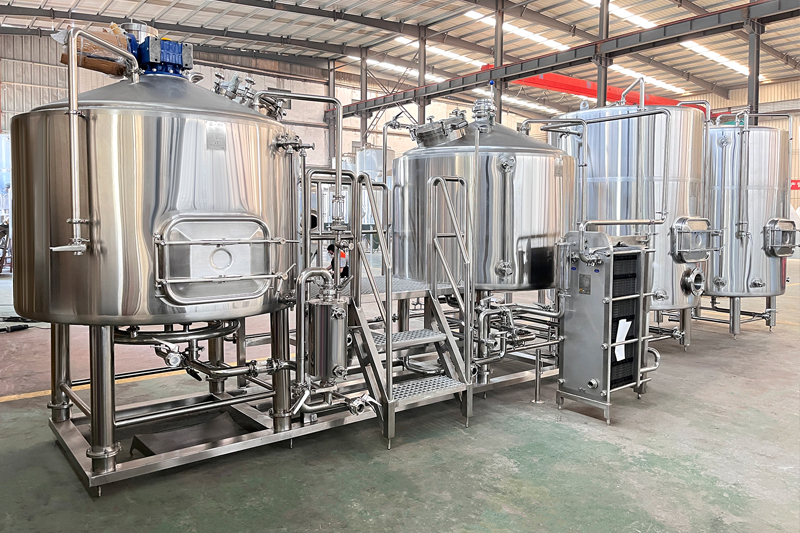 Brewing Equipment Specifications
When selecting brewing equipment, you'll need to consider size specs, capacities, power requirements, and utility connections. Use the brewery design process to properly size everything.
Sizing and Capacity
Match mash tun, kettle, fermenter, and brite tank sizes to production goals
Consider peak and average batch sizes, schedule, growth plans
Standard vessel sizes: 5, 7, 10, 15, 20, 30, 60 barrels most common
Scale piping, pumps, heat exchangers, etc to match flow rates
Power and Utilities
Determine electricity, gas, water, wastewater needs
Choose steam, electric, or direct fire heating systems
Pick single or three phase power for motors and heating
Coordinate with plumber for water, drains, glycol, cooling lines
Construction
Stainless steel for mash tun, lauter tun, kettles, fermenters, brite tanks
Copper for whiskey and unusual styles if desired
Food grade plastic acceptable for some transfer hoses and lines
Dimensions
Consider minimum vessel heights for ergonomics
Measure doorway width, height, ramp incline for equipment installation
Allow extra space for safe access, cleaning, maintenance
Other Considerations
Local codes and regulations
Noise, vibration, emissions
Weight loads on flooring
Material compatibility for cleaning and food safety
Future expandability and flexibility
Brewing Equipment Manufacturers and Suppliers
Many companies offer quality brewhouse equipment – here are some of the top suppliers across price ranges:
Entry Level Brewing Equipment
| Supplier | Price Range | Offerings |
| --- | --- | --- |
| Northern Brewer | $500 – $5,000 | Homebrew kettles, burners, chillers, fermenters |
| Adventures in Homebrewing | $500 – $5,000 | Homebrew and nanobrew packages |
| MoreBeer | $500 – $5,000 | Kettles, conicals, kegging, accessories |
| Kegco | $1,000 – $10,000 | Affordable 1-3 bbl systems |
| Craft a Brew | $1,000 – $5,000 | Kettles, conicals, mills, burners |
Pro and Commercial Brewing Equipment
| Supplier | Price Range | Offerings |
| --- | --- | --- |
| Stout Tanks | $10,000 – $100,000 | 3-15 bbl brewhouses, fermenters, brite tanks |
| Specific Mechanical | $10,000 – $500,000 | Custom 3-60 bbl brewhouse systems |
| Premier Stainless | $20,000 – $1,000,000 | 7-120 bbl brewhouses, tanks, silos |
| JV Northwest | $30,000 – $2,000,000 | 10-500 bbl brewhouses, entire packaging lines |
| AAA Metal Fabrication | $50,000 – $5,000,000 | Full multi-vessel brewhouses, tubular skid systems |
| GW Kent | $100,000 – $10,000,000 | Total multi-vessel brewhouses, packaging lines |
For the highest quality professional setups, contact brewery engineering design consultants to get quotes from multiple equipment vendors and help with plant layout and integration.
Brewing Equipment Pricing Details
Pricing varies greatly based on size, features, automation, brand, and options. Budget at least $5,000-$10,000 for a basic homebrew to nanobrewery setup, and $100,000-$500,000+ for larger professional 7-30 bbl microbrewery systems.
Entry Level Brewing Equipment Pricing
| Equipment | Price Range |
| --- | --- |
| 2-3 bbl brew kettle | $1,000 – $5,000 |
| Propane burner | $100 – $500 |
| Plate chiller | $100 – $1,000 |
| 7-15 gallon conical | $500 – $2,000 |
| Temperature controller | $50 – $300 |
| Pumps, hoses, fittings | $500 – $2,000 |
| Mills, burners, accessories | $500 – $2,000 |
| Total | $5,000 – $10,000 |
Commercial Brewing Equipment Pricing
| Equipment | Price Range |
| --- | --- |
| 7 bbl brewhouse | $75,000 – $150,000 |
| 15 bbl fermenters (3) | $30,000 – $90,000 |
| 30 bbl brite tank | $15,000 – $45,000 |
| Glycol chiller | $10,000 – $30,000 |
| Canning line | $40,000 – $150,000 |
| Grain handling system | $10,000 – $50,000 |
| Boiler and steam system | $20,000 – $100,000 |
| Piping, plumbing, electrical | $50,000 – $150,000 |
| Total | $250,000 – $500,000 |
Costs scale up for larger systems and more vessels. Get quotes from multiple vendors once your brewhouse design is completed.
Selecting and Working With Brewing Equipment Suppliers
Choosing the right brewing equipment suppliers and partners ensures your project goes smoothly from start to finish. Here's what to look for and ask potential vendors:
Ensuring Quality Standards
Do they use high grade stainless steel and precision welds?
What quality control checks do they perform? Get detailed specifications.
Can they provide references and samples of past work?
Do they offer guarantees, warranties, and support?
Evaluating Experience and Reputation
How long have they been in business supplying breweries?
How many brewhouse projects have they completed, and at what scale?
Are their past customers satisfied? Get references to contact.
Are they familiar with local codes and regulations?
Aligning With Your Production Goals
Can they provide equipment to match your capacity targets and growth plans?
How customizable are their systems? Can they meet special requirements?
How scalable are the systems for future expansion?
Assessing Value and Budget
Do they offer competitive pricing for the quality and features? Get quotes from multiple vendors.
Is their equipment priced appropriately for your budget range? Let them know your constraints.
Are financing options available if needed?
Delivering and Supporting the Project
What are their lead times for manufacturing and delivery? How reliable are they?
Can they handle equipment installation and integration?
Do they offer operator training, maintenance, and technical support?
How responsive is their customer service?
By vetting suppliers thoroughly and aligning with an experienced partner, your brewery will be set up for success.
Installing and Operating Brewing Equipment
Once you receive your shiny new brewing equipment, proper installation, operation, and maintenance is key to performance and safety. Follow best practices:
Installation
Carefully plan rigging and lifting logistics for large vessels
Ensure solid, level foundations for stable placement
Connect vessels according to process flow diagrams
Test glycol, steam, cooling water, and wastewater lines
Pressure test and inspect all connections for leaks
Calibrate sensors, verify control system functions
Safety
Train staff thoroughly on operating procedures
Establish emergency shutdown protocols
Place warning signs on high voltage electrical panels
Ensure good accessibility and egress for vessels
Provide first aid kits and fire extinguishers
Enforce PPE requirements for hazardous cleaning chemicals
Cleaning and Maintenance
Follow CIP protocols between batches
Perform preventative maintenance on pumps, seals, gaskets
Lubricate and inspect motors, drives, chains, bearings
Calibrate sensors and control parameters regularly
Watch for corrosion, cracks, or equipment deterioration
Optimization
Continuously monitor data and logs to improve performance
Refine recipes, procedures, and schedules for efficiency
Adjust automation setpoints based on real system response
Upgrade equipment capabilities over time as needed
With trained staff and a focus on safety, cleaning, and continuous improvement, your brewery's equipment investment will deliver great beer and ROI.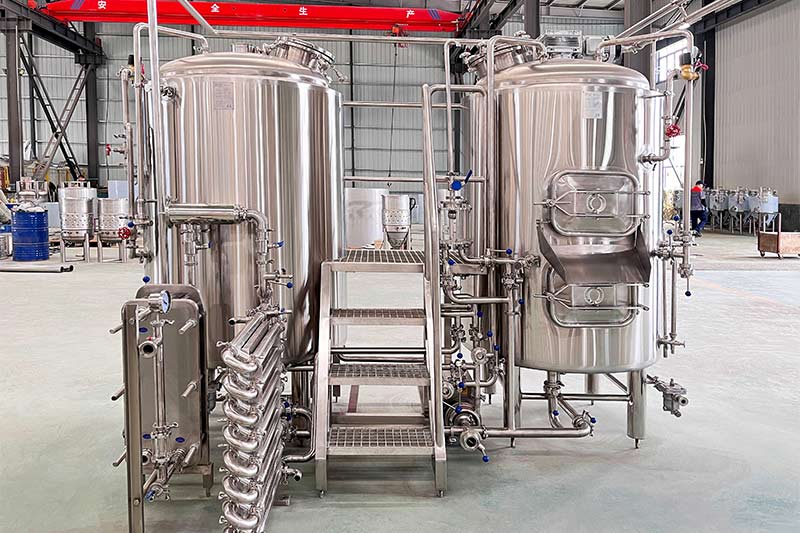 How to Choose the Best Brewing Equipment Supplier
Selecting the ideal brewing equipment supplier is key to project success. Follow these steps:
Define Your Requirements
Batch sizes, production goals, growth plans
Equipment types and capacities needed
Construction preferences like stainless steel grade
Power, utilities, space requirements
Quality standards, monitoring capabilities
Budget constraints
Research Equipment Vendors
Search for brewing equipment suppliers in your region or willing to deliver
Check industry reviews and testimonials from past customers
Look for vendors specializing in your scale of brewhouse
Favor vendors who also handle integration, training, support
Evaluate Supplier Capabilities
Interview vendors to assess project experience
Review examples of past brewhouse projects completed
Ensure they can meet your specifications and requirements
Assess reputation, customer satisfaction, and service levels
Get Detailed Quotes
Provide your brewhouse requirements and request quotes
Compare pricing across suppliers for same scopes
Clarify what's included – installation, shipping, taxes, etc.
Negotiate options, payment terms, warranties as needed
Verify Vendor Reliability
Discuss expected manufacturing and delivery timelines
Review order and delivery history to assess on-time rates
Contact references to check quality of equipment and service
Ensure they will support you during installation and startup
Make Final Supplier Selection
Weigh factors like quality, experience, responsiveness, and budget fit
Choose the vendor that best fulfills your needs and instills confidence
Clarify contract terms, schedule, responsibilities for smooth order and fulfillment
Doing diligence to pick the right brewing equipment supplier sets up your brewery build for on-time, on-budget, successful equipment commissioning and operation.
Pros and Cons of Basic vs Professional Brewing Equipment
Evaluating basic homebrew kits against professional grade brewing equipment shows clear tradeoffs in capability versus affordability.
Pros of Basic Brewing Equipment
Very low startup cost of $1,000 – $5,000
Easy to learn hands-on homebrewing skills
Simpler manuals and operating procedures
Flexible and customizable configurations
Frequent equipment tweaking and upgrades
Less daunting initial investment than pro equipment
Cons of Basic Brewing Equipment
Very small 1-3 bbl batch sizes not viable for commercial brewery
Difficult to control temperatures precisely
Time consuming manual operation and cleanup
Lower mash efficiency and beer consistency
Higher risk of contamination and infection
Can't produce specialty beers well like sours and IPAs
May need to fully replace after outgrowing beginner equipment
Pros of Professional Brewing Equipment
Engineered systems allow 7-500+ bbl commercial production
Fully automated operation, monitoring, and record keeping
Advanced features like active sparging increase efficiency
Much faster cooling and cleaning cycles
Built to meet safety and sanitation standards
Flexible to support wide range of beer recipes and schedules
Can produce specialty beers not possible at small scale
Growth friendly, easy to add more tanks over time
Cons of Professional Brewing Equipment
Very high cost of $100,000+ for full brewhouse buildout
Complex equipment requiring skilled operators
May be overkill for brand new small breweries
Upgrading individual parts challenging, designed as integrated system
Require more space in brewhouse for multiple vessels
Typically fixed configurations less customizable post-install
Troubleshooting issues requires professional service help
For entrepreneurs starting a brewery business, carefully weigh this tradeoff of capabilities versus cost when selecting brewing equipment. Consider starting small and upgrading over time once your brand takes off.
Comparison of Brewing Equipment
Malt Mills
| Parameter | 2-roller mill | 3-roller mill |
| --- | --- | --- |
| Description | Two adjustable rollers crack malt kernels | Adds third roller for finer crush control |
| Typical gap range | 0.025 – 0.15 inches | 0.015 – 0.1 inches |
| Average flow rate | 150 kg/hr | 300 kg/hr |
| Uniformity | Moderate, some uncrushed kernels | Excellent, most kernels evenly cracked |
| Power required | 1 hp motor | 3 hp motor |
| Cost | $500 – $1,500 | $2,000 – $4,000 |
| Best for | Homebrew, manual operation | Commercial brewery, high efficiency |
Brew Kettles
| Parameter | Direct fire | Electric heated | Steam heated |
| --- | --- | --- | --- |
| Heat source | Natural gas or propane burners | Electric heating elements | External boiler and steam |
| Energy efficiency | Very high ~90% | Moderate ~65% | Low ~30% |
| Temperature control | Automated via PID | Manual adjustment of elements | Automated steam valves |
| Installation | Gas lines, exhaust vent | High amp electrical line | Steam piping |
| Cost | $3,000 – $10,000 | $1,000 – $5,000 | $5,000 – $20,000 |
| Best for | Commercial, fast heating | Homebrew, simple setup | Existing steam system |
Fermenters
| Parameter | Stainless conical | Stainless cylidroconical | Stainless cylinder |
| --- | --- | --- | --- |
| Shape | Cone bottom | Cylinder with cone bottom | Straight cylinder |
| Draining | Easy via bottom dump valve | Partial via bottom cone | Challenging, top or bottom |
| Pressure capable | Yes, add pressure relief | Yes, add PRV | Not recommended |
| Size range | 7 – 600 barrels | 7 – 600 barrels | 7 – 600 barrels |
| Cost | $10,000 – $100,000 | $5,000 – $50,000 | $2,000 – $20,000 |
| Best for | Yeast harvest and reuse | Flexibility, cost | Only aging, budget |
Plate Heat Exchangers
| Parameter | Single pass | Multi-pass | Wort grant |
| --- | --- | --- | --- |
| Passes | 1 | 3-5 | 1, with holding tank |
| Duty | Cooling only | Heating and cooling | Versatile, grant feature |
| Flow rate | Medium | Very high | High |
| Cleaning | Moderate | Challenging | Easy |
| Cost | $5,000 – $20,000 | $10,000 – $50,000 | $10,000 – $30,000 |
| Best for | Simple chilling | Max efficiency | Flexibility |
Options for Expanding Brewing Capacity
Add more fermentation and bright tanks
Install higher capacity mash tun and lauter tun
Upgrade to larger electric or steam heated kettle
Add centrifuge to increase batch speeds
Install higher efficiency heat exchanger
Automate packaging with canning or bottling line
Expand cold and dry storage areas
Upgrade utilities like chilling system, boiler, wastewater capacity
Move to larger brewing space if existing space insufficient
Key Considerations for Brewery Equipment Maintenance
Daily cleaning and sanitization after use
Routine lubrication of pumps, seals, motors
Inspecting vessels and fittings for leaks/cracks
Verifying calibration of sensors and automation system
Preventative maintenance on hardware like chains and bearings
Testing and repairing cooling jackets and insulation
Replacing worn gaskets, hoses, valves, pipes on schedule
Logging equipment operating hours and maintenance tasks
Tracking spare parts inventory and reordering
Establishing maintenance budget and schedule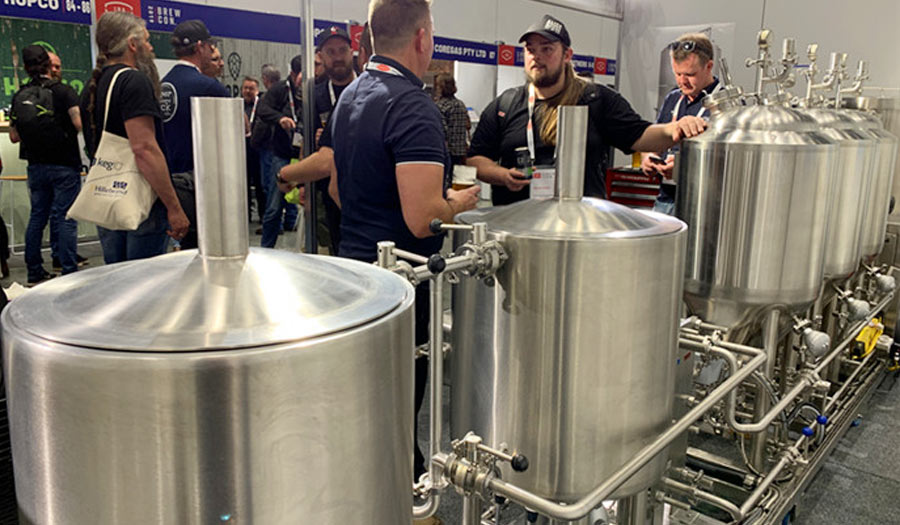 FAQs
What are the essential pieces of equipment needed to start brewing?
The core brewing equipment for professional brewing includes a mash tun, lauter tun, brew kettle, whirlpool, heat exchanger, fermenters, brite tanks, and steam generation system. Beyond that, grain handling, milling, water treatment, cleaning, packaging and more equipment may be needed for a complete brewhouse.
What size brewing system do I need for a microbrewery?
A typical microbrewery producing beer for its own taproom needs at least a 3-7 barrel brewhouse system. This allows brewing the volume needed for on-premise sales. 7-30 barrel systems are common for microbreweries distributing regionally.
Should I buy new or used brewing equipment?
For major vessels, it's usually recommended to buy new equipment designed specifically for your brewery. This ensures food safety, consistency, and reliability. High quality equipment will last decades. For ancillary used equipment like kegs or forklifts, used can save money.
How much does it cost to equip a 10 barrel microbrewery?
For a turnkey 10 barrel microbrewery, the brewhouse equipment alone can cost $250,000 to $500,000. The production brewhouse equipment like the mash tun, brew kettle, fermenters, brite tanks, steam systems, cooling systems, and brewhouse hardware can easily top $300,000. The rest of the equipment for grain handling, processing, cleaning, packaging, and more will cost at least another few hundred thousand.
What maintenance is required on brewing equipment?
Daily cleaning and sanitization is crucial after each use along with routine preventative maintenance like lubricating parts and replacing gaskets. Verify instrument calibration and automation controls regularly. Inspect all fittings, welds, valves for leaks and deterioration. Follow manufacturers maintenance manuals for major equipment. Log all maintenance tasks completed.
Should I buy brewing equipment domestically or imported?
For major vessels, domestic high quality stainless steel from commercial brewhouse OEMs is recommended. Imported budget equipment often cuts corners on materials and has hidden long-term costs. For some accessories and parts, imports can offer savings. Evaluate quality and total cost carefully.