Overview of Industrial Beer Brewing Systems
Industrial beer brewing equipment refers to the large-scale systems and machinery used by commercial breweries to produce beer on a mass production scale. Compared to homebrewing setups, these systems allow for much higher batch sizes, automation, and continuous processing.
Some key components of an industrial brewing system include:
Mash tun – Mixes crushed malt with hot water to extract sugars. Often a stainless steel tank with agitators.
Lauter tun – Separates sweet wort from spent grain residues. Usually a tank with a false slotted bottom.
Brew kettle – Boils the wort with hops to impart flavor and bitterness. Made of stainless steel.
Whirlpool – Settles out hop residues and coagulated proteins after boiling.
Fermenter – Allows yeast to ferment sugars into alcohol and CO2. Stainless steel or polymer tanks.
Brite tank – Clarifies and carbonates beer after fermentation. Serving tanks.
Filter – Removes sediment and haze particles before packaging. Plate and frame or cartridge filters.
Filler – Transfers bright beer into kegs, cans or bottles. Counter-pressure fillers.
CIP system – Automated cleaning-in-place of tanks, pipes and equipment.
Chiller – Rapidly cools hot wort before fermentation. Plate heat exchanger.
Control system – Monitors sensors and automates valves, motors and processing.
In addition to these core components, industrial breweries also require conveyors, pumps, compressors, boilers, cooling towers, and wastewater treatment systems. The equipment is typically modular and designed for efficiency, consistency, sanitation, and automation.
Major Types of Industrial Brewing Systems
There are several configurations of industrial beer brewing equipment:
| Brewing System Type | Description |
| --- | --- |
| Traditional Brew House | Has separate mash tun, lauter tun, and brew kettle. Batch processing. |
| Brewhouse with Mash Filter | Replaces lauter tun with mash filter for wort separation. |
| Multistep Infusion Mash Tun | Combined mash and lauter tun for simplified mashing. |
| Continuous Wort Production | Uses twin mash filters for uninterrupted wort flow. |
| Parallel Brewing | Multiple brewhouses for different beer types. |
| High-gravity Brewing | Brews concentrated wort then dilutes to required strength. |
The choice depends on production volume, number of beer types, and capital investment. Larger industrial breweries favor continuous or high-gravity systems for efficiency. Craft breweries often use traditional mash tuns or mash filters for flexibility.
Key Characteristics of Industrial beer brewing equipment
| Parameter | Description |
| --- | --- |
| Batch Size | From 5 bbl to 5000 bbl based on target production volume |
| Automation | High degree of sensors, actuators, valves and automation |
| Continuous Operation | Options for continuous wort production and filtering |
| Modularity | Components designed for reconfiguration as needed |
| Clean-in-Place | Automated cleaning cycles and sanitary design |
| Remote Monitoring | Control systems allow remote supervision |
| Energy Efficiency | Heat recovery, insulation, optimized processes |
| Food-grade Construction | Stainless steel tanks, piping, valves meet sanitary standards |
Industrial brewing systems are engineered for repeatability, high volumes, and ease of operation. Sanitation and automation allow a small staff to produce beer safely and consistently.
Applications and Beer Types
Industrial beer brewing equipment allows commercial breweries to produce a wide range of beer styles and flavors.
Beer Types Brewed on Industrial Systems
| Beer Type | Key Characteristics |
| --- | --- |
| Lagers | Cool fermented, aged, crisp, clean flavors |
| Ales | Warm fermented, fruity esters, hoppy or malty |
| Pilsners | Light straw color, noble hop aroma, dry finish |
| Stouts | Deep black color, roasted malt flavors, creamy |
| IPAs | Intense hop bitterness, citrus and pine hop flavors |
| Wheat Beers | Unfiltered, citrusy, refreshing, bready |
| Specialty Beers | Seasonals, fruit beers, smoked, aged, sour |
By adjusting recipes, fermentation parameters, and raw ingredients, brewmasters can develop many distinctive beer styles on the same equipment.
Brewery Applications for Industrial Systems
| Application | Description |
| --- | --- |
| Macro Breweries | High-volume brewing of flagship brands distributed nationally |
| Regional Breweries | Medium batches supplying a specific region |
| Microbreweries | Small craft breweries focused on specialty beers |
| Brewpubs | Restaurant-based brewing of house draft beers |
| Contract Brewing | Producing beer brands on behalf of clients |
Industrial breweries provide the flexibility, efficiency and reliability needed in all these business models – from mass-market lagers to experimental small batches.
Equipment Design Specifications
Industrial beer brewing equipment must meet exacting standards for hygiene, corrosion resistance, safety, and automation.
Material Standards for Brewing Equipment
| Component | Typical Materials Used |
| --- | --- |
| Tanks | Stainless steel grades 304/316L |
| Piping | Stainless steel grades 304L/316L |
| Valves | Stainless steel or polymer |
| Fasteners | Stainless steel grades 304/316 |
| Gaskets | EPDM, silicon, PTFE |
| Insulation | Polyurethane foam panels |
Stainless steel resists corrosion from cleaning chemicals. Smooth welds, bends, and polished surfaces prevent bacterial buildup. Food-grade polymers can be used for valves, seals, and gaskets. Insulation maintains temperatures during mashing and fermentation.
Key Brewing Equipment Design Factors
| Design Factor | Typical Specifications |
| --- | --- |
| Volume | 5 bbl to 5000 bbl tanks |
| Pressure Rating | Up to 15 bar(g) for tanks |
| Temperature | -10 to 150°C range |
| Cleanability | Hermetically sealed, sloped tanks, tri-clamp connections |
| Sanitary Standards | Meets ASME-BPE, 3-A, EHEDG, cGMP standards |
| Automation | PLCs, I/O modules, sensors, valves, variable speed drives |
| Safety | Overpressure relief valves, emergency stops, guarding |
| Traceability | Batch/lot tracking, material certificates |
Following sanitary standards ensures the equipment is cleanable, sterilizable, non-toxic, and contamination-free. Automation improves process control and data collection.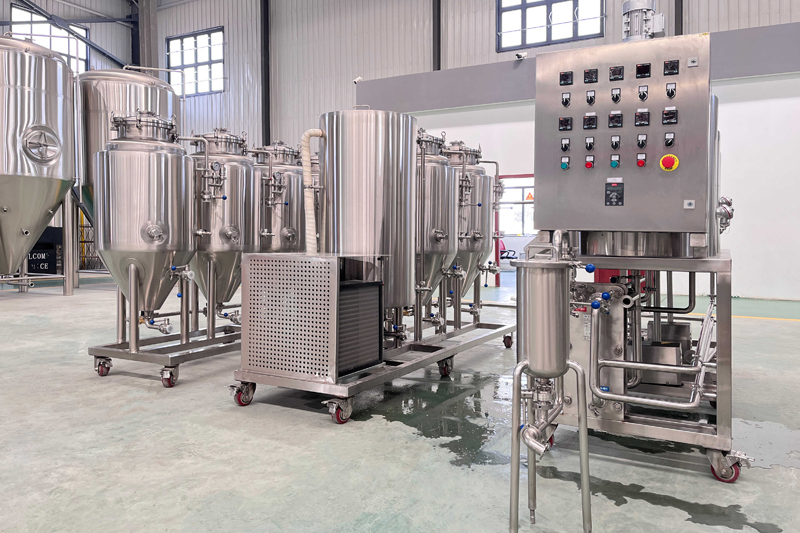 Suppliers and Pricing
There are many equipment vendors offering industrial brewing systems globally.
Major Industrial beer brewing equipment Suppliers
| Company | Location | Description |
| --- | --- | --- |
| Paul Mueller | Springfield, MO USA | Complete brewhouses, tanks, systems |
| JVNW | Canby, OR USA | Brewing equipment, engineering, controls |
| Premier Stainless | Escondido, CA USA | Custom tanks, vessels, brewhouses |
| AAA Metal Fabrication | Portland, OR USA | Brewery tanks and fermenters |
| GW Kent | Ypsilanti, MI USA | Brewhouse systems, mash filters, yeast systems |
| Rolec Prozess | Germany | Brewing systems, filtration, automation |
| KHS | Germany | Turnkey brewing systems, filler/packagers |
| Steinecker | Germany | High-gravity and multi-step brewhouses |
| Praj Industries | India | Complete brewery solutions |
| Jiangsu Minhe | China | Brewing equipment, 30+ years experience |
This table shows leading global and regional suppliers across the beer equipment space.
Pricing for Industrial beer brewing equipment
| Equipment | Price Range |
| --- | --- |
| 5 bbl brewhouse | $150,000 to $300,000 |
| 50 bbl brewhouse | $800,000 to $1.5 million |
| 500 bbl brewhouse | $3 million to $6 million |
| Fermenters/BTs | $2,000 to $8,000 per bbl |
| Centrifuge | $100,000 to $200,000 |
| Canning line | $150,000 to $500,000 |
| Chiller | $50,000 to $150,000 |
| Boiler | $100,000 to $250,000 |
Equipment cost scales with production capacity and features. A complete 50,000 bbl craft brewery may cost $10-$20 million. Large industrial breweries with packaging lines can cost over $100 million.
Installation and Maintenance
Proper installation, operation, and maintenance ensures maximum performance and longevity of industrial beer brewing equipment.
Installation Best Practices
Carefully inspect equipment upon delivery for any damage or faults.
Review manufacturer drawings and instructions for assembly, utilities, clearances.
Allow sufficient overhead crane access for vessel placement and maintenance.
Ensure foundations and flooring can bear tank loads when full.
Connect utilities – steam, water, drains, air, CO2, glycol – per specifications.
Have manufacturer commission and test the equipment.
Develop standard operating procedures (SOPs) for equipment. Train staff.
Taking the time to correctly install the equipment avoids future problems and undue wear and tear.
Operation and Maintenance Requirements
| Activity | Frequency |
| --- | --- |
| Calibration of sensors/instruments | Monthly or per SOP |
| Visual inspection of equipment | Weekly walkthroughs |
| Function testing of valves, motors | Monthly or per SOP |
| Lubrication of pumps, chains, bearings | Monthly or per SOP |
| Tank cleaning and sanitization | After each batch per CIP SOP |
| Filter flushing and membrane integrity tests | Weekly or per SOP |
| Equipment overhaul, replacements | Annually before peak season |
| Review maintenance logs for issues | Monthly |
| Update equipment logs | Ongoing |
The brewmaster creates SOPs for operation, cleaning, maintenance based on the manufacturer's guidelines. Keeping logs helps identify wear, defects, training needs, and preventative maintenance.
Selecting an Equipment Supplier
Choosing the right equipment supplier is critical for building an efficient, cost-effective brewery.
Key Considerations for Selecting a Brewery Equipment Supplier
| Parameter | Guide |
| --- | --- |
| Experience | Number of breweries equipped, years in business |
| Specialization | Focus on brewing equipment vs general fabrication |
| Capabilities | Range of equipment offered – tanks, brewhouse, filters, automation, packaging |
| Customization | Ability to modify designs to suit needs |
| Design Services | Upfront engineering consultation, 3D models, process sizing |
| Lead Times | Equipment delivery timeframes |
| Installation Services | Capability for professional installation and commissioning |
| Warranties | Coverage period for equipment defects |
| Ongoing Support | Availability of manuals, spare parts, maintenance help |
| References | Feedback from existing customers on work quality |
| Certifications | Quality management system accreditation like ISO-9001 |
An experienced brewing equipment company with good references can guide the selection, design, and installation of reliable systems that maximize return on investment.
Advantages of Industrial Brewing Systems
Some key benefits of investing in purpose-built industrial beer brewing equipment include:
Efficiency – Continuous or high-gravity brewing maximizes productivity.
Automation – Consistent quality and free up labor for higher value tasks.
Flexibility – Modular components allow tweaking recipes and batch sizes.
Quality – Advanced sensors and controls achieve repeatability and fine-tuned beer characteristics.
Profitability – Higher throughput at lower cost and wastage.
Safety – Engineered systems with proper safeguards and hygienic materials.
Durability – Equipment built to last with stainless steel fabrication and standardized designs.
Serviceability – Established brands offer maintenance support.
Data collection – Detailed logging of processes to optimize production.
The higher capital investment in full-scale equipment pays dividends over the long run in beer quality and volumes.
Challenges of Industrial Brewing Systems
Some limitations of large brewing systems that must be managed:
High upfront cost – May require financing. Look for modular expandability.
Facility requirements – Need sufficient space, utilities, clearance.
Training – Staff need technical training on operations and maintenance.
Inflexibility – Difficult to experiment with very small batches. Maintain pilot systems.
Trend responsiveness – Long lead-times for additional tanks or packaging when capacity needs change. Plan ahead.
Cleaning – More CIP time needed than homebrewing. Automate where possible.
Energy, water use – Look for heat recovery, variable speed drives, and recycling.
Service contracts – Factor in annual maintenance costs.
Quality assurance – Tighter monitoring and lab work needed to achieve consistency.
While complex, the risks can be minimized through careful planning, staff training, preventative maintenance, and by working with experienced vendors and contractors.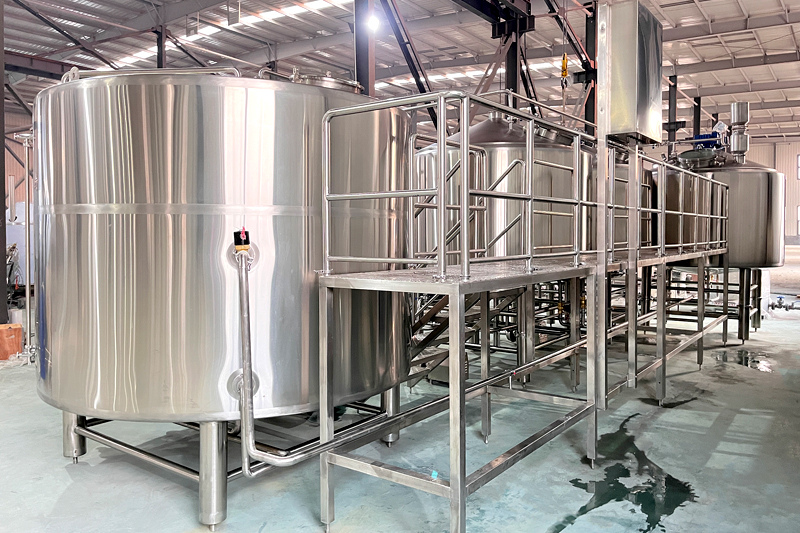 FAQs
What are the typical batch sizes for industrial brewing systems?
From 5 bbl (6,600 pints) for microbreweries to 5,000 bbl (6.6 million pints) for large breweries. The capacity depends on tank and brewhouse sizes.
How much beer can an industrial brewery produce annually?
Anywhere from 1,000 bbl per year for a small brewpub to over a million bbl per year for a macro brewery. The production capacity depends on the brewhouse size and number of turns or batches per day.
What degree of automation do industrial breweries have?
Most utilize automated programmable brewing control systems for efficient operation and data collection. Sensors monitor parameters like temperature and pressure while PLCs control pumps, valves, drives and cleaning cycles.
How are industrial tanks fabricated?
Tanks use stainless steel sheets rolled into cylinders and dished ends made from pressed stainless halves. They are welded via automated TIG for a polished sanitary interior finish. The exterior can have insulation cladding.
How long does it take to design and deliver a complete industrial brewhouse?
Typically 12-20 weeks from order to shipment after upfront design work. Very large or custom systems can take 6 months. Prefabrication in parallel accelerates projects. Expedited options are possible but cost more.
What are the power requirements for an industrial brewery?
From 500 kW for a 10 bbl microbrewery to 5 MW for a large 500,000 bbl brewery. Power is needed for wort boiling, chillers, air compressors, lighting, packaging lines, and ancillary equipment.
How much water does an industrial brewery use?
Water usage ranges from about 3 to 10 barrels of water per barrel of beer depending on the scale and efficiency initiatives like recycling hot side water.
What types of industrial filtration systems are used for beer?
Plate and frame filters, lenticular filters, and depth filters remove haze particles, yeast, hop debris prior to packaging. Sterile membrane filtration provides microbial stability.
How should brewing equipment be maintained?
Daily and weekly inspections, scheduled preventative maintenance like gasket changes, annual full service prior to peak season. Following manufacturer guidelines is key.
What is the typical material of construction for beer tanks?
Tanks are constructed from stainless steel grades 304 and 316L due to excellent corrosion resistance and weldability. Unlined steel is avoided as it can impart metallic flavors.
This covers the typical questions received on large-scale brewing equipment. Reach out for any other specific needs.
Conclusion
Industrial brewing systems enable breweries to produce from 5 to 5000 barrels of high-quality beer per batch to meet customer demand efficiently. When engineered to exacting standards using quality materials like stainless steel, and outfitted with state-of-the-art automation and controls, these systems can brew beers with outstanding consistency and flavors. They require considerable initial investment and training, but pay off over the long run through greater productivity and revenue compared to small-scale setups. With careful planning for peak loads, preventative maintenance, and by selecting an experienced brewing equipment supplier, brewers can minimize downtime and operate industrial breweries profitably for decades.