What we are going to discuss next is how to buy
Chinese brewing equipment
. Because this is a topic that often appears in brewing forums. Many people will seek advice on how to deal with this thorny issue in the brewing forum. Almost everyone is planning to buy Chinese brewing equipment because of the price. The price difference between Chinese brewing equipment and equipment produced in the United States or Europe is 40% to 60%. Therefore, many people will worry whether such a low price is accompanied by poor equipment quality. Micet Craft is a professional manufacturer of
brewery equipment
in China, so we can provide you with instructions for purchasing Chinese brewing equipment.
Guidance on buying brewing equipment in China
As with buying equipment elsewhere, you need to research and evaluate your options, and buying equipment made in China is no exception. You can get a shortlist of your favorite potential brewery equipment manufacturers through an initial online search or online query. Then, you can contact the above-mentioned manufacturer and ask them to provide a recommendation letter from the brewery that has purchased and is using their equipment. A good Chinese manufacturer will be more than happy to let you get in touch with previous customers and get an evaluation of their equipment. In addition, you can also ask for videos, equipment pictures and talk to their engineers. As more and more breweries start to buy brewery equipment made in China, you may have the opportunity to visit a brewery near you, which has brewing equipment provided by your favorite manufacturer. This process helps to narrow down you are shortlisted of brewery equipment manufacturers even further, and you can start to the next step.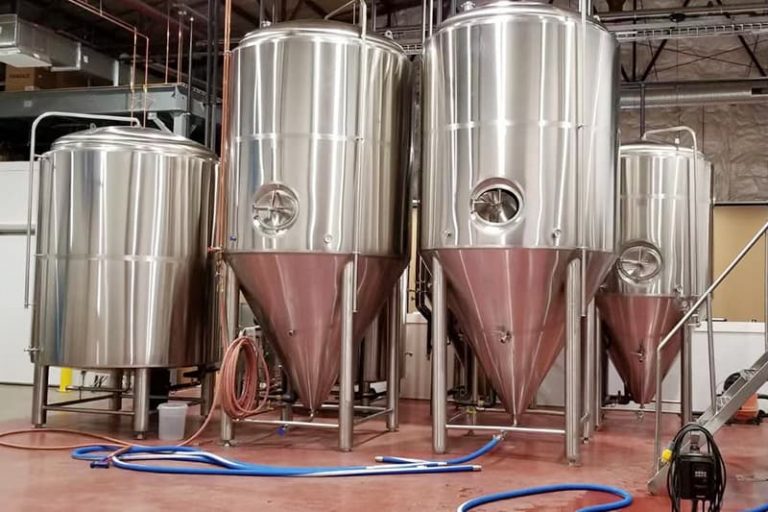 Discuss your project plan
Next, you need to discuss your brewing project with your favorite equipment manufacturers. A good beer equipment manufacturer will provide the following related questions, such as:
How many volumes of beer do you plan to brew each month or year?
What is your overall budget for this project?
How big is your brewery space?
What is your goal for the next 3-5 years?
What kind of brewing process do you plan to use?
These questions are raised for new brewery installations and brewery upgrades. If you only plan to buy a piece of equipment, such as a centrifuge, please refer to the following questions:
How much volume of beer do you need to process in a day?
What type of beer do you need to centrifuge? This is mainly to see which kind of pre-filter you need.
How many volumes of beer do you plan to handle in a year?
What level (how many microns) do you need to filter? Because you may need a filter after the centrifuge.
Reputable equipment manufacturers will fully meet your brewing needs as much as possible, they will not provide you with ready-made solutions. In addition, we do not recommend that you use ready-made solutions unless you have a small budget and price is the main driving factor. This looks hard, or if you are not sure whether you can complete this process, you can try to consult
Micet Craft
. Our engineers will customize the design of brewery equipment and turnkey solutions for you according to your needs. We will let you get the best equipment most suitable for you at the fastest speed.
Do you need a brewhouse with 2, 3, or 4 vessels?
In this question, the number of beers you want to produce, how many types of beer you have in your core series, the manpower and flexibility required will all affect the brewhouse setup.
The balance between Taproom and production
If you plan to open a brewery and beer bar, you need to ensure an effective example of the space to facilitate profitability. For example, if you plan to open a beer bar, stacking fermentation tanks may be the best option for you, because you can place more
fermentation tanks
in a limited space. In addition, you have to make sure that your serving tank is close to the bar area, as it will save installation and ongoing costs of transporting the beer to the point of sale. These are just two simple examples, of course, there are many factors to consider. Each set of brewery equipment should be customized as much as possible within the budget limit to ensure that you get the brewery equipment that best suits your needs. Excellent brewery equipment manufacturers will provide you with a complete turnkey solution according to your brewing needs and budget.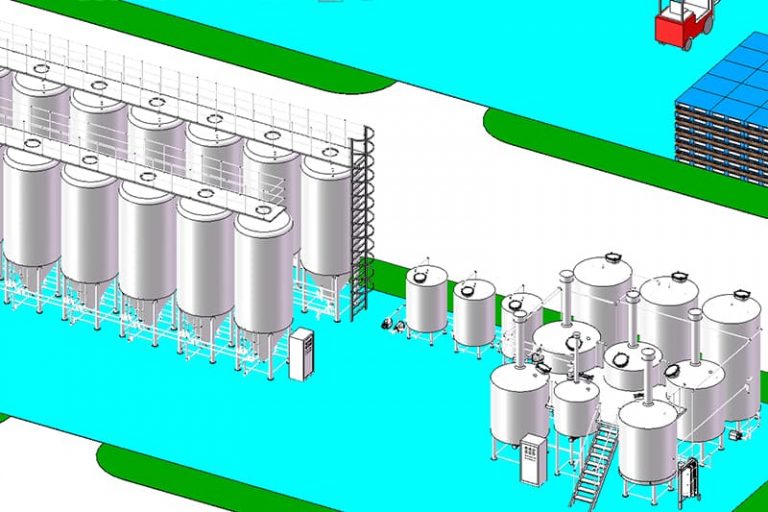 Brewery equipment list and layout
When you agree with the solutions provided by the brewery equipment manufacturer, they will provide you with a complete list of equipment, from heating sources to
bright tanks
. Then you will work with the manufacturer so that both parties can agree on the list. Such as the volume and number of fermentation tanks, and the need for yeast edges. You need to put the checklist together, and understand the layout of the building, and decide the basic equipment placement to ensure a good workflow and reduce the operating costs of the brewery. Here I want to say one thing, we do not recommend that you purchase highly automated packaging equipment from China. This is because Chinese manufacturers still cannot make automated production lines for bottling or canning for craft breweries. However, if it is equipment for small batch packaging, you can consider buying it from China. Under normal circumstances, if you need filling equipment, the
brewery equipment manufacturer
will also provide you with it, which requires you to communicate and negotiate with the manufacturer.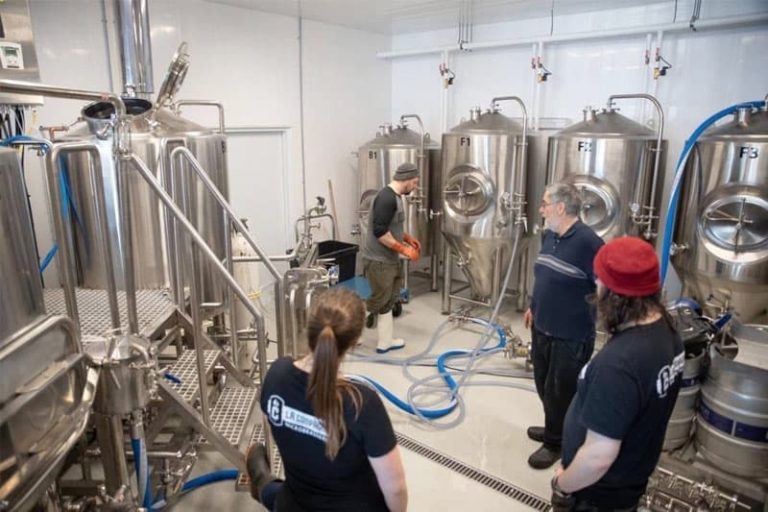 Visit China and meet with manufacturers
This process is an optional part, depending on your budget and whether you feel it is necessary. Now because of the pandemic, you may need to be quarantined for up to 21 days when entering China, which will greatly increase your budget pressure. Of course, visiting the manufacturer can personally inspect the manufacturing quality and communicate effectively with the manufacturer, which is very good. When you have finished the quarantine, you can easily spend between US$3,000 and US$4,000 (excluding flights) in China for a month to visit your candidate list of potential manufacturers. This is because most of the brewery equipment manufacturers are concentrated in the two cities of Jinan and Ningbo. The transportation in the city is very convenient, even if you need to go to other cities, there are high-speed rails that can quickly reach the destination. Therefore, even if you need to visit China, the overall cost of brewery equipment is still lower than in Europe or the United States, and of course, the quality will be similar. As we said above, this is an optional step. For a small set of equipment, it may not be very important. However, if your brewery project is very large, it is very worthwhile. Of course, if you have a brewing consultant in China, he will help you handle everything. The next step is to purchase equipment.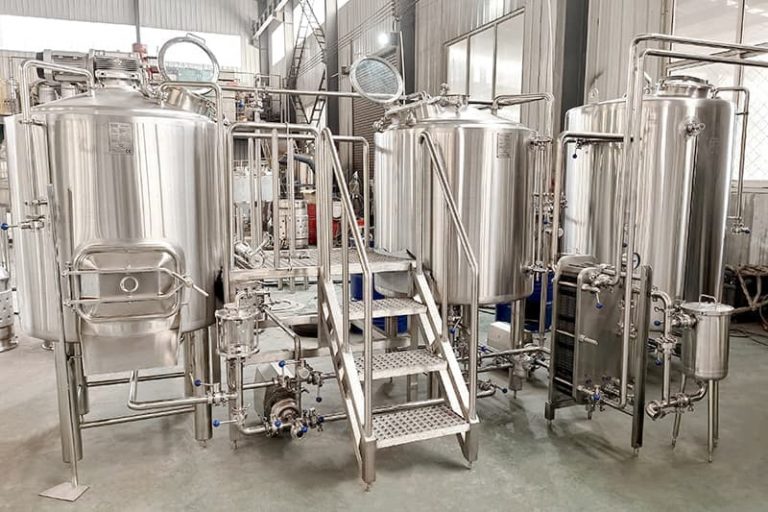 Purchase brewing equipment
The next stage is to purchase brewery equipment and agree on the equipment list, tank configuration, and layout. Under normal circumstances, the contract for the purchase of equipment looks like this:
Payment terms and conditions.
30% of the total price will be paid within 5 days after the contract is signed (before the start of production).
70% according to transit time.
The seller pays the installation service fee (this needs to be negotiated with the seller).
Accommodation is provided by the buyer on-site.
Determine the delivery time.
After placing the order, it usually takes 2 to 4 months for the equipment to be completed and shipped to the site. During this period, Chinese equipment manufacturers will start manufacturing equipment in accordance with the agreed specifications and will keep you informed of the progress of the project. During this time, you will protect your building and prepare it for installation. This requires cooperation with the manufacturer so that they can prepare as much as possible before installation. This will include the following items:
Utility access point (for water and electricity)
Floor plan and placement of the water tank
Ceiling height (can affect the design of the equipment manufacturer)
Where is the building (residential or industrial?)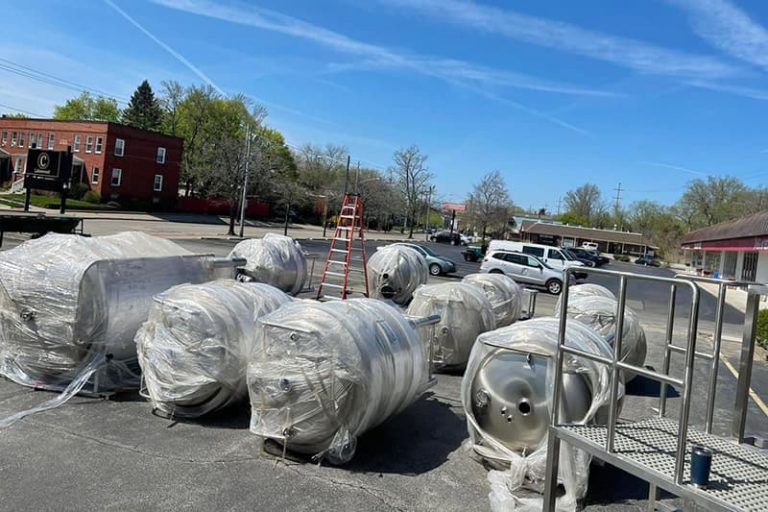 Brewery equipment shipment and commissioning
Before the brewery equipment is shipped, some buyers may want to check the condition of the equipment. This is to ensure that the equipment produced by the manufacturer is of good quality and to check whether the content of the equipment conforms to the agreement. The next step is to transport the brewery to the designated installation site. It may take 6-8 weeks for the equipment to be delivered to the site. During this period, the building configuration needs to be completed to facilitate the installation of equipment.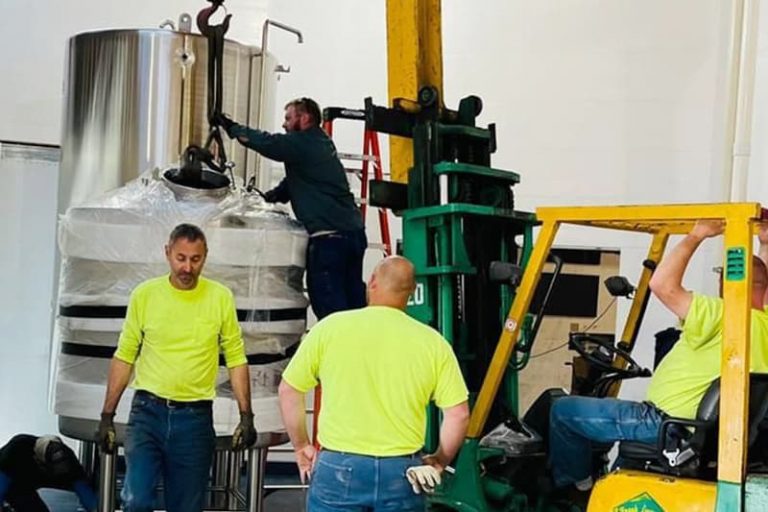 Brewery equipment installation
If there is good communication between buyers and sellers at the manufacturing stage, the installation of the equipment may take up to 2 weeks. Previously, you and the manufacturer determined the floor plan and place items such as utility points and drainage systems. Now, it is necessary to piece the equipment together bit by bit like a jigsaw puzzle. Micet Craft will mark the connected pipes with numbers, you only need to connect pipes with the same number together. When the equipment is installed, it needs to enter the next stage: debugging. Normally, the first-time brewery equipment needs to be well cleaned, and acidic brewing and tank passivation should be carried out before making any beer. Now, it is necessary to carry out "water brewing". "Water brewing" simply passes water through the system to ensure that the water tank and heating elements work as planned. Once the installation is completed and everyone is satisfied with the installation, the seller will assist you in brewing together on the new system. Under normal circumstances, the manufacturer will complete at least 2 brewing with you to understand the workflow and brewing process and will answer any specific questions you may encounter. Here, you will learn about the flow of the equipment and how to use them effectively so that you can brew delicious beer in the new system.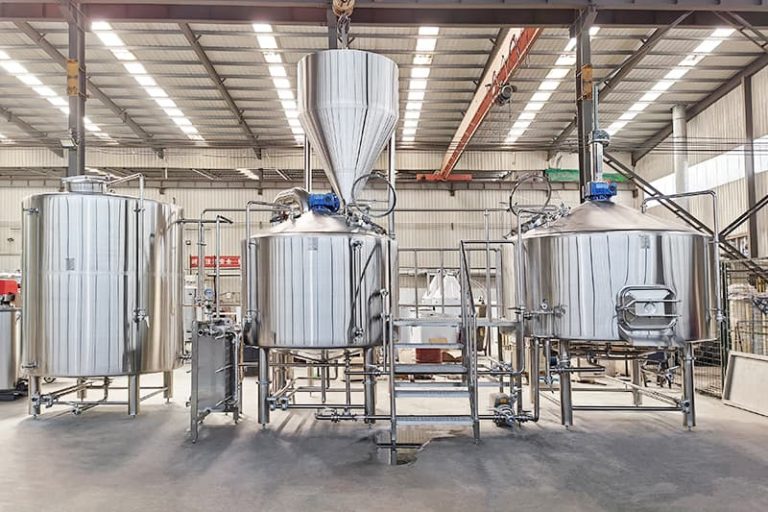 When your equipment encounters problems in subsequent production, you can still contact excellent equipment manufacturers and help you solve any problems and questions about the equipment. In addition, the manufacturer will also provide a one-year warranty for the equipment, and any damaged parts have been replaced (provided that it is not due to operator errors). After-sales service is one of the important components that need to be considered when selecting an equipment manufacturer. Because even the most well-planned brewery equipment may have problems in the first 6 months of operation. A good manufacturer understands this, and their guarantee will ensure to help you overcome any problems that arise together. You can learn more about the "
How to choose brewery equipment?
" article.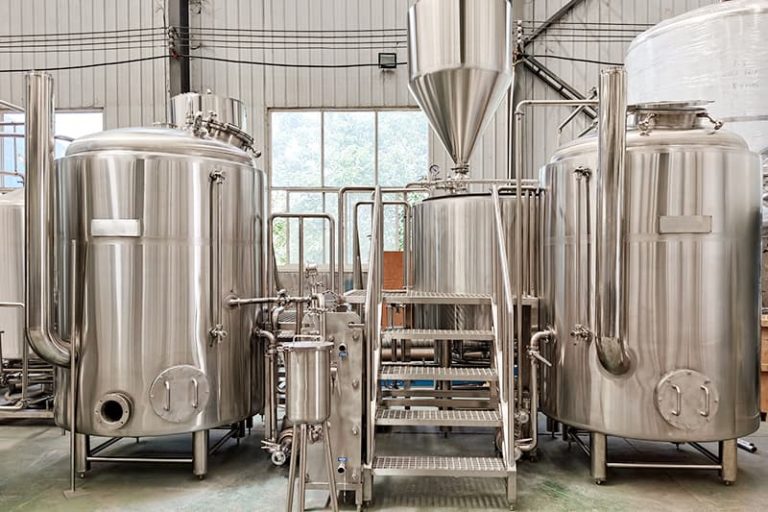 Purchasing brewery equipment is a very complicated process. The brewery equipment is an expensive purchase, which is why many breweries choose Chinese brewing equipment: lower prices can allow your budget to complete more planning. In the past ten years, due to the maturity of the market, Chinese beer manufacturers have also increased. The older the brewers, the more successful they have chosen Chinese-made brewery equipment. Of course, this has increased the competition among Chinese manufacturers. Good manufacturers have been tempered and can provide more complete services.
And here we sincerely share some tips for buying beer equipment from China:
Be specific and go into as much detail as you can about everything!
Don't write off ideas or suggestions that they have, some are good and can be better than what you have seen before.
Go through everything carefully, and then try to do it again.
Visit the factory during production and be involved with the process as much as you can.
Stay in regular contact with the supplier.
Get spares and most of them. Spare seals, elements, everything you can think of, and more than you think you'll need. Having a critical spare in stock could be the difference between brewing and not brewing for weeks.
Build-in redundancies. For example, we designed the pipework of the brewhouse so that both pumps can do any task. If one breaks, the brewmaster can still brew using the other.
Reference projects could help you a lot. You could learn what you want to know about a supplier, the quality, the service, what is more, some brewing comments based on their brewery equipment.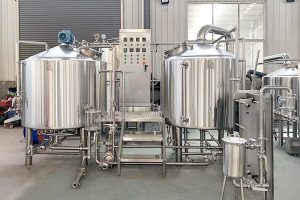 Beer Brewing Equipment
Beer Brewery Equipment Manufacturer The brewing supplies provided by Micet Craft can support your brewing needs from small batches of micro beer brewing equipment to 100 barrels capacity. Micet Craft has reached cooperation with many breweries around the world, we can design and manufacture professional brewing systems for breweries, including cellar beer brewing equipment and other
Read More »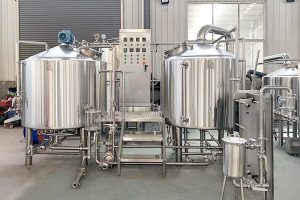 Beer Brewing Equipment
Beer Brewery Equipment Manufacturer The brewing supplies provided by Micet Craft can support your brewing needs from small batches of micro beer brewing equipment to 100 barrels capacity. Micet Craft has reached cooperation with many breweries around the world, we can design and manufacture professional brewing systems for breweries, including cellar beer brewing equipment and other
Read More »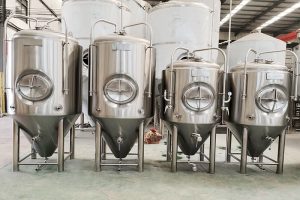 Fermentation Tank
China stainless steel fermentation vessels manufacturer The fermentation tank is where the beer carry out the fermentation process, it provides a place suitable for life activities and metabolism for microorganisms. To adapt to the use of different sizes of breweries, Micet Craft produced a variety of sizes and specifications of fermentation tanks. Customers can choose
Read More »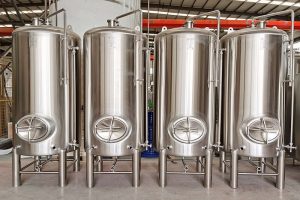 Bright Beer Tank
Professional bright Beer tank manufacturer from China The bright tank is a vessel for storing and carbonated beer, it is also called the brite tank. The bright tank is an important part of the workflow of professional beer brewers. It can be used to store and carbonate beer, thus eliminating the trouble of cleaning beer
Read More »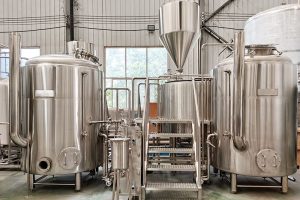 Brewing Equipment
China brewing equipment manufacturer and suppliers Micet Craft has cooperated with breweries in many countries around the world to provide them with brewing equipment. We provide customers with turnkey brewery solutions, which include designing, manufacturing and installing customized breweries. The Micet Craft team has decades of experience in the manufacturing of brewing equipment, we not
Read More »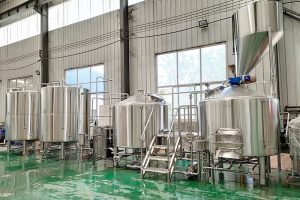 Brewhouse Equipment
Best brewhouse equipment manufacturer from china Brewing good beer requires brewhouse equipment. Whether you are brewing beer for home, business or brewery, Micet Craft can provide a turnkey solution according to the daily output you need. We have brewhouse equipment with 2 vessels, 3 vessels and 4 vessels, the unique design allows you to do decoction
Read More »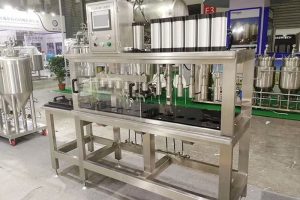 Beer Filling Machine
Professional beer filling machine manufacturer Beer filling machine is the core equipment of the beer production line. Our beer filling system uses stainless steel as the production material. Stainless steel is not easy to wear, and it is easy to clean. Micet Craft provides you with a cheap and efficient way of filling beer. We
Read More »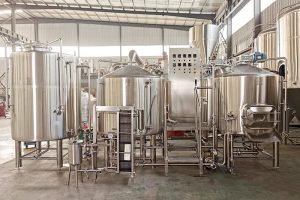 Beer Brewing System
Best beer brewing system manufacturer from china Micet Craft is a professional beer brewing system manufacturer in China. We mainly produce high-end customized turnkey brewing systems. Whether you are planning to open a nano-brewery, microbrewery, or commercial brewery, we can provide you with the most complete turnkey solution. Our beer brewing systems are all price-competitive
Read More »
Get a turnkey solution for brewery equipment
If you plan to open or expand the brewery, you can contact Micet Craft directly. Our engineers will design and manufacture brewery equipment according to your brewing process. Of course, we will also provide you with a complete turnkey solution. Also, if you plan to expand the brewery, we will provide you with customized solutions.