1000L 3 Vessel Beer Brewing Equipment is a brewery for restaurants, commecial and industrial breweries which consist of the industrial wort brew machine and a fully equipped set of the professional beer fermentation tanks with a nominal capacity from 1000 up to 10000 liters.
Micet Craft is very pleased to provide customers from France with brewing equipment. Thank you very much for your trust and support. Of course, we have also made a set of uniquely designed brewery equipment with powerful functions for our customers. Our customers are very satisfied with the equipment:
We choose Micet Craft because they can provide us with a complete turnkey solution, even though they are in faraway China. The brewhouse is also custom-made and designed according to our needs, which can fully meet our requirements for equipment. Now, we are preparing to use the equipment for the first brewing, and we look forward to the growth of Micet Craft with us.
Micet Craft works with breweries large and small in the world to design and manufacture custom brewhouses, wine cellars, and various other complex brewery-specific support vessels and systems. The Micet Craft team combines decades of experience in engineered brewery equipment, brewing, process engineering, manufacturing sanitary stainless steel systems, and integrated automation and control systems. We have proven that we are professional enough to meet the needs of some of the world's largest beer manufacturers. However, we are also committed to helping small craft brewers custom design beer equipment to maximize success. Micet Craft builds breweries ranging from 1BBL to 100BBL, using steam power (gas or electricity) or enclosed indirect firepower, from initial design to final installation, to provide customers with assistance at every step. Its wide variety of stainless steel water tanks are made of the most advanced materials available on the market today, and its high-quality stainless steel water tanks are also easier to clean and maintain, which means you can save hours of cleaning labor. Micet Craft prides itself on helping customers gain and maintain a competitive advantage. For this purpose, Micet Craft provides emergency repair services and has an in-depth understanding of the functional, efficiency, economic, and safety challenges faced by brewers today. These advantages and capabilities have helped Micet Craft win the favor of many beer manufacturers.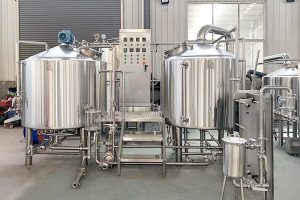 Beer Brewing Equipment
Beer Brewery Equipment Manufacturer The brewing supplies provided by Micet Craft can support your brewing needs from small batches of micro beer brewing equipment to 100 barrels capacity. Micet Craft has reached cooperation with many breweries around the world, we can design and manufacture professional brewing systems for breweries, including cellar beer brewing equipment and other
Read More »
Get a turnkey solution for brewery equipment
If you plan to open or expand the brewery, you can contact Micet Craft directly. Our engineers will design and manufacture brewery equipment according to your brewing process. Of course, we will also provide you with a complete turnkey solution. Also, if you plan to expand the brewery, we will provide you with customized solutions.