In the context of the saturated mass beer, the craft beer market is being favored by more and more people. Craft beer is growing and gaining more recognition. And more and more people are engaged in the craft beer business. To become a qualified brewer, you must understand craft beer brewing equipment. Also to being functional, safe, and easy to operate, good craft beer equipment is more important to keep the equipment clean and hygienic. If the cleaning and sterilization are not thorough, the residual scale and microorganisms on the inner wall of the equipment will affect the flavor and taste of the beer. Microbes and dirt are the mortal enemies of every brewer. Even if you follow every step of the brewing process, if you do it with dirty equipment, the resulting beer will be full of smells. Cleaning beer brewing equipment is also a crucial job, so how should craft beer brewing equipment be cleaned? The suggestions listed by the engineers at Micet Craft below may help you.
Cleaning methods for craft beer equipment
Fouling is a generic term used to describe organic and inorganic build-up. For beer and wine, the most common sources of "dirt" are proteins and minerals. They come from grains, hops, fruit, and water, among others, and when bacteria start to grow, they attach to plastics, forming scale, scum, and biofilm. The
fermentation tank
looks very clean but has invisible microbes and bacteria on the inside walls. Never feeling "clean" is the key to beer flavor.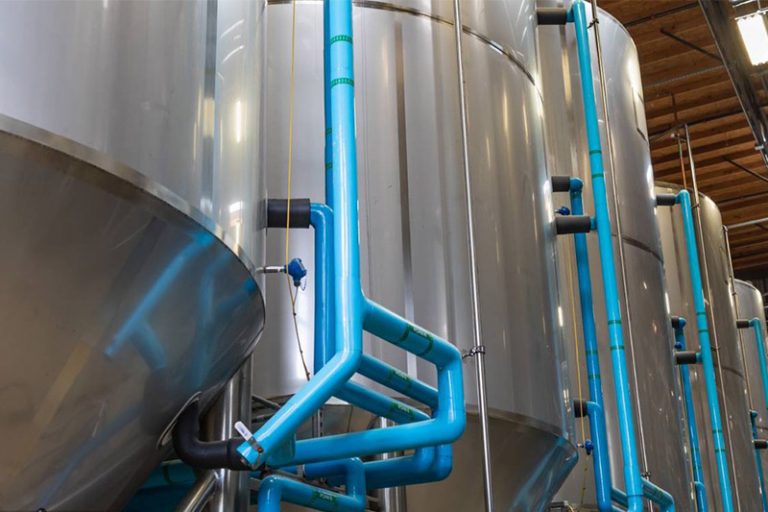 Basic elements of cleaning
In the production process of beer equipment, the sanitation management of the equipment is a critical link. After the beer is contaminated, it will lead to a poor taste of the beer, and in severe cases, the beer will become sour and deteriorate, resulting in economic losses. To ensure a good production environment, the cleaning of beer equipment is essential.
Before cleaning, the craft beer equipment to be cleaned must be closed first to prevent unnecessary accidents.
The cleaning fluid must be in direct contact with the dirt.The concentration, temperature, and time of the cleaning solution must meet the process requirements. Mechanical operations must all act on the parts being cleaned.
The cleaned dirt must be removed from the equipment in a fluid manner, i.e. it must be dissolved and freed from adhesions to prevent the dirt from redepositing.
All cleaned dirt must be completely removed from the cleaned system.
The cleaning agent itself is harmful to the product and must also be completely drained from the cleaned system. Due to cleaning, the acid-base concentration is diluted and needs to be adjusted and tested.
The pipeline positions of craft beer brewing equipment are particularly prone to residual impurities. If these positions are not cleaned, the beer made even if the cans are cleaned and cleaned may deteriorate. To enhance the cleaning effect, when cleaning the pipeline in the beer equipment, attention should be paid to its mechanical function. To receive a better cleaning effect, when using hot cleaning fluid, the flow rate in the pipe should be controlled to 1 to 1.5 meters per second; when using cold cleaning fluid, the different flow rates should be determined according to the diameter of the pipe. Rinse with hot or alkaline water several times.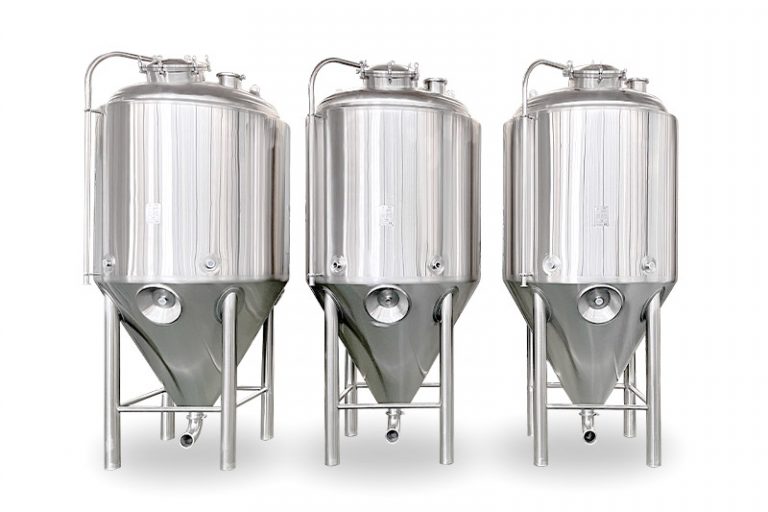 How to Clean Fermentation Tanks
The hygienic condition of the fermenter has a great influence on the quality of the beer, and cleanliness and sterility are the basic requirements of the fermenter. At room temperature, rinse with water; then configure 2% to 4% alkaline solution, heat to 80 to 85°C for CIP cycle for 30 minutes; then rinse with water for 5 to 10 minutes, and then configure 1% to 2% The nitric acid or sulfuric acid solution is CIP cycled at room temperature for 30 minutes; rinsed with clean water for 5 to 10 minutes, configured with 0.35% to 0.5% bactericide at room temperature for 30 minutes, and then rinsed with sterile water to remove residual sterilization agent. Small equipment such as 500L can be sterilized by rinsing it for a while with open water. If the fermenter is particularly large, it is necessary to use a disinfectant, such as hydrogen peroxide, peroxy acid, and no-rinse. Disinfectant to sterilize the fermentation tank.
How to clean the brewhouse equipment
The cleaning of the
brewhouse equipment
system should remove the dirt on the surface of the tank, pipeline and equipment as much as possible. But, some key positions, such as the pipeline after the boiling tank or the spin sink, and the pipeline to the fermenter must be cleaned, and rinsed with hot or alkaline water for many times. At room temperature, pre-rinse with clean water for 10 minutes, then configure 1%-2% sodium hydroxide solution, heat it to 80-85°C for 30 minutes, and then use 90°C-95°C hot water for CIP Circulation for 30-40 minutes can achieve the purpose of cleaning.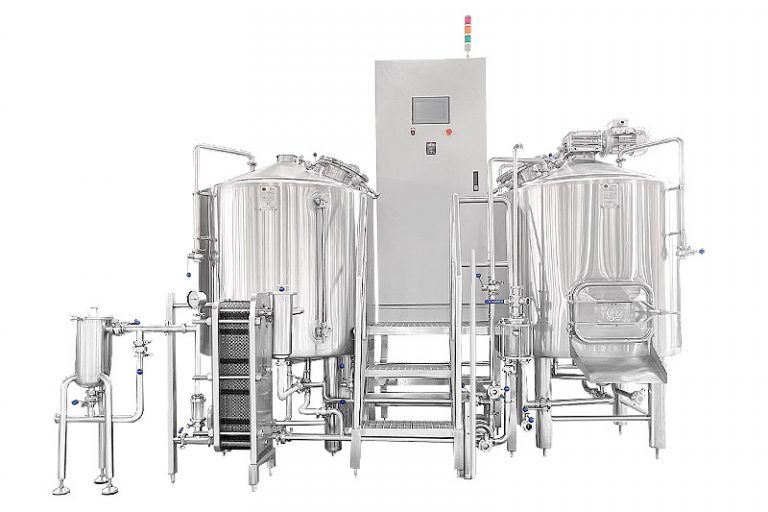 How to Clean a Plate Heat Exchanger
In the plate heat exchanger, the two media of wort and coolant move in a turbulent form by pumping, and flow in the opposite direction following the grooves on both sides of the grooved plate to achieve rapid cooling. The plate heat exchanger is on the side of the wort. Although the temperature has dropped, the cold coagulation in the wort will adhere to the plate, which will produce odor and cause high-frequency bacterial infection. It is recommended to use caustic soda solution or other cleaning solution to backflush the wine after each brewing (backflushing: the direction of the cleaning solution is opposite to that of the wort). Before each brewing, use hot water above 80℃ to circulate for more than 30 minutes to sterilize. To change the plate for better recoil, you can add some pipes to the plate. If you need to disassemble the board for cleaning, you must remember the positive and negative positions of each board, so about avoid reverse installation or insufficient fixation, which may cause normal use.
The purpose of cleaning beer equipment
The metal surface in contact with the material during the production process will deposit some dirt due to various reasons. Remove yeast, protein coagulation, hop resin, oxalate, tartrate, carbonate, and other organic and inorganic substances on the tank wall and pipeline to prevent non-biological pollution in beer production; the purpose and function of sterilization are to use suitable Fungicides that can kill bacteria, fungi, and other microorganisms and prevent biological contamination in beer production.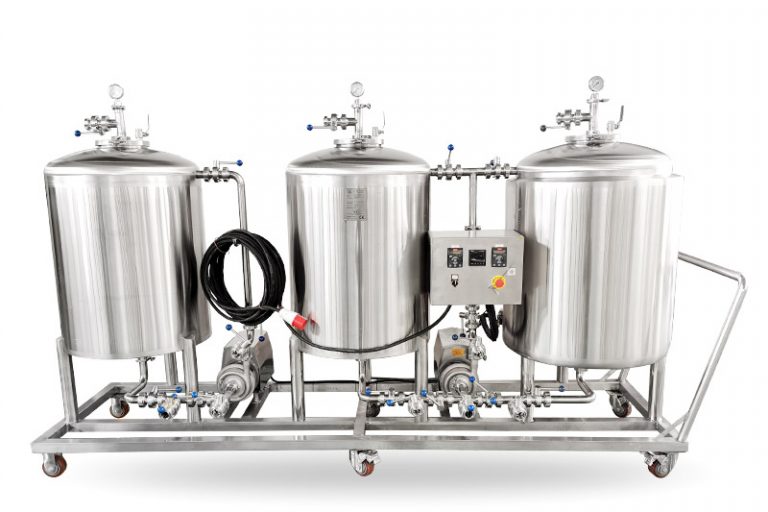 Get a turnkey solution for craft brewery equipment
Contact us if you plan and are ready to open a brewery. Micet Craft engineers will provide you with a list of craft brewery equipment and associated prices. Of course, we can also provide you with professional turnkey brewery solutions, allowing you more time to focus on brewing great beer. Micet Craft looks forward to working with you!!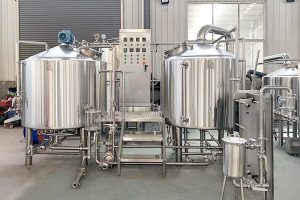 Beer Brewing Equipment
Beer Brewery Equipment Manufacturer The brewing supplies provided by Micet Craft can support your brewing needs from small batches of micro beer brewing equipment to 100 barrels capacity. Micet Craft has reached cooperation with many breweries around the world, we can design and manufacture professional brewing systems for breweries, including cellar beer brewing equipment and other
Read More »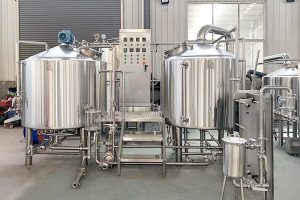 Beer Brewing Equipment
Beer Brewery Equipment Manufacturer The brewing supplies provided by Micet Craft can support your brewing needs from small batches of micro beer brewing equipment to 100 barrels capacity. Micet Craft has reached cooperation with many breweries around the world, we can design and manufacture professional brewing systems for breweries, including cellar beer brewing equipment and other
Read More »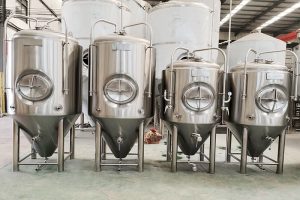 Fermentation Tank
China stainless steel fermentation vessels manufacturer The fermentation tank is where the beer carry out the fermentation process, it provides a place suitable for life activities and metabolism for microorganisms. To adapt to the use of different sizes of breweries, Micet Craft produced a variety of sizes and specifications of fermentation tanks. Customers can choose
Read More »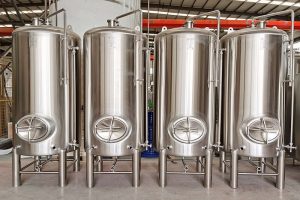 Bright Beer Tank
Professional bright Beer tank manufacturer from China The bright tank is a vessel for storing and carbonated beer, it is also called the brite tank. The bright tank is an important part of the workflow of professional beer brewers. It can be used to store and carbonate beer, thus eliminating the trouble of cleaning beer
Read More »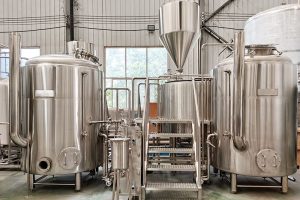 Brewing Equipment
China brewing equipment manufacturer and suppliers Micet Craft has cooperated with breweries in many countries around the world to provide them with brewing equipment. We provide customers with turnkey brewery solutions, which include designing, manufacturing and installing customized breweries. The Micet Craft team has decades of experience in the manufacturing of brewing equipment, we not
Read More »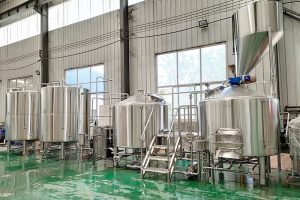 Brewhouse Equipment
Best brewhouse equipment manufacturer from china Brewing good beer requires brewhouse equipment. Whether you are brewing beer for home, business or brewery, Micet Craft can provide a turnkey solution according to the daily output you need. We have brewhouse equipment with 2 vessels, 3 vessels and 4 vessels, the unique design allows you to do decoction
Read More »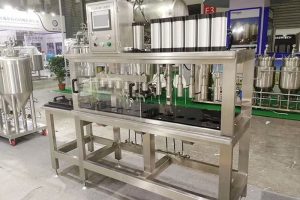 Beer Filling Machine
Professional beer filling machine manufacturer Beer filling machine is the core equipment of the beer production line. Our beer filling system uses stainless steel as the production material. Stainless steel is not easy to wear, and it is easy to clean. Micet Craft provides you with a cheap and efficient way of filling beer. We
Read More »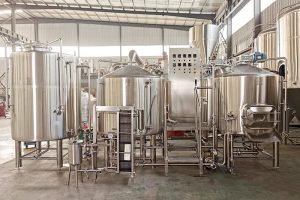 Beer Brewing System
Best beer brewing system manufacturer from china Micet Craft is a professional beer brewing system manufacturer in China. We mainly produce high-end customized turnkey brewing systems. Whether you are planning to open a nano-brewery, microbrewery, or commercial brewery, we can provide you with the most complete turnkey solution. Our beer brewing systems are all price-competitive
Read More »
Get a turnkey solution for brewery equipment
If you plan to open or expand the brewery, you can contact Micet Craft directly. Our engineers will design and manufacture
brewery equipment
according to your brewing process. Of course, we will also provide you with a complete turnkey solution. Also, if you plan to expand the brewery, we will provide you with customized solutions.